From bashing Bollywood's bigwigs to comparing Mumbai with POK and to lashing out at farmers for protesting, Kangana Ranaut added her name in every big news doing rounds in India. Using social media platforms to the fullest, she didn't bat an eye before giving a controversial statement.
Here, we have brought to you the list of controversies Kangana Ranaut hit the headlines for:
When Kangana slammed Karan Johar, Salman Khan, Shah Rukh Khan over Nepotism
As soon as the news of Sushant Singh Rajput's sudden death came out on June 14 2020, the whole country went in a state of shock. Immediately, Kangana took to her social media handle and dropped the video in which she can be seen blaming Bollywood's biggies and calling them murderers. She further went on to blame Karan Johar for starting the business of nepotism in the entertainment industry and slammed Alia Bhatt, Varun Dhawan, Sonam Kapoor and others.
When Kangana said: Sushant knew some 'grubby secrets'
Amid the row of Bollywood drug case, controversy queen, took to her Twitter handle and wrote, 'I am more willing to help @narcoticsbureau but I need protection from the Central government, I have not only risked my career but also my life, it is quite evident Sushant knew some secrets that's why he has been killed.' Not just this, she also vowed to return her awards, including Padma Shri, if Sushant's cause of death comes out to be a suicide.
Bollywood and Drugs
Soon after CBI took over the case, ED on the other hand issued a letter to NCB to check the whereabouts of Rhea Chakraborty and two other after they found a WhatsApp chat related to drugs. As soon as this news came out, the 33-year-old Kangana Ranaut alleged that 99 per cent of Bollywood is involved in drugs.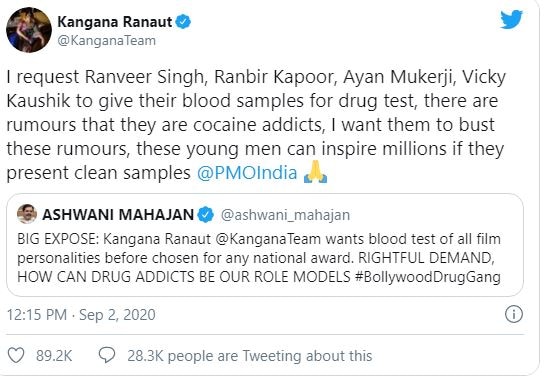 She further shifted the attention to Karan Johar's controversial party and requested Ranbir Kapoor, Vicky Kaushal, Ranveer Singh and Ayan Mukerji to give their blood samples for a drug test. After she dropped this tweet, Bollywood was divided and Kangana's Twitter account became the battleground with Twitterati's demanding proof.
Actress Rhea Chakraborty also was in the spotlight since the death of her ex-boyfriend and actor Sushant Singh Rajput. SSR's family alleged that Rhea supplied drugs to the late actor and kept him away from his family. Rhea and her brother Showik were also arrested by Narcotics Control Bureau (NCB) in the drugs probe that emerged from SSR's death. After spending a month in jail, Rhea was granted bail. Along with the NCB and CBI, the ED (Enforcement Directorate) is also investigating an angle that emerged from the case.
When she compared Mumbai with POK
Sushant's death left the entire nation brimming with an opinion. Amid this, a lot of questions were raised upon the Mumbai police investigation in the case. While Sushant's death case was handed over to CBI, actress Kangana, took a jibe at Mumbai Police and said that the city is unsafe. She also added that it feels like Pakistan-occupied Kashmir. This did not go down well with the ruling government and Sanjay Raut of the Shiv Sena attacked the actress over her remark. While Kangana faced a lot of criticism for her remarks, it also sparked a war between the actress and Shiv Sena. While Raut went on to call her 'haraamkhor ladki' on national television, state Home Minister Anil Deshmukh stated that Kangana had no right to live in the state. Enraged with the comments, the Queen actress openly challenged the government to stop her from returning to Mumbai. However, things took a different turn, when Mumbai's civic body landed at her suburban office and overnight issued 'illegal construction' notice in September. It also demolished her office. Later, the Bombay High Court described the act as 'malafide' in nature and had even slammed the BMC for its hasty decision.

Kangana Ranaut's Twitter war with Diljit Dosanjh post her comment about farmers' protest
The nation witnessed a major movement after farmers from Punjab made their way to Delhi to protest against the newly introduced farm laws. While the entire Punjabi industry has come in support of the farmers along with several Bollywood celebs, Kangana landed in boiling waters had tweeted, misidentifying an elderly Sikh woman during the farmers' protest as Bilkis Bano of Shaheen Bagh. While the Queen actress received massive flak for her tweet, Diljit Dosanjh also slammed Kangana which resulted in a massive war of words between the two. While the Udta Punjab actor shared a video of the old lady and stated that she wasn't Bilkis Bano but Mahinder Kaur, Kangana had hit back at him and called the actor 'Karan Johar Ka Paltu'.
Later, Diljit didn't hold back and went on to hit out at Kangana in a series of tweets. One of his tweets read as, 'You don't know how to talk about someone's mother-sister. Being a woman, you are saying other women are for RS 100. Our Punjabi moms are like god to us. You've put your hand in a bee's nest.'