Renowned music maverick Rahul Dev Burman who was popularly known as Pancham Da won millions of hearts owing to his unique style of composing music. It won't be wrong to call him one of the most talented and influential music composers Bollywood had ever seen. Born in June 27, 1939, RD Burman composed music for as many as 331 films and the evergreen songs from the same continue to be the all-time favourites of music lovers across the country even now.
In his career spanning around 33 years, Pancham Da gave some of the best music scores in Hindi cinema and we get proof for the same in movies like Aaradhna, Yaadon Ki Baaraat, Jewel Thief, Pyar Ka Mausam, Baharon Ke Sapne, Jewel Thief, and many others. The musical genius, unfortunately, left for his heavenly abode on January 4, 1994. Today, on his 27th death anniversary, we pay our heartfelt tribute to him and look back at five most evergreen songs composed by him back in the day.
Humein Tumse Pyaar Kitna
Pancham Da had composed this evergreen number for the movie Kudrat (1981) that featured Hema Malini and Rajesh Khanna in the lead roles. Kishore Kumar had crooned the song that continues to mesmerize music lovers even today.
Ek Ladki Ko Dekha Toh Aisa Laga
Pancham Da had won the Filmfare Award for Best Music Director for this amazing number that he composed for 1942: A Love Story. It continues to be a hit among the music lovers even now and a reboot version was created in 2019 for a movie named after the song itself.
Chura Liya Hai Tumne Jo Dil Ko
It is considered to be one of the best compositions of RD Burman. The song was sung by Asha Bhosle and Mohammad Rafi for the 1973 film Yaadon Ki Baaraat.
Kya Hua Tera Wada
This song from the movie Hum Kisise Kum Naheen (1977) is considered to be one of the best masterpieces created by RD Burman in the course of his career.
Yeh Dosti Hum Nahin Todenge
Filmed on Amitabh Bachchan and Dharmendra in Ramesh Sippy's Sholey (1975), this song continues to be a friendship anthem across generations.
Here are some lesser-known facts about Industry's Pancham Da: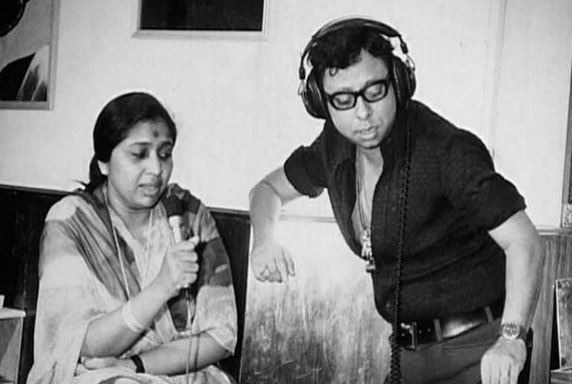 He was nicknamed Pancham because he could cry in five different notes. Yet another version is that when the veteran Indian actor Ashok Kumar saw a newborn Rahul uttering the syllable Pa repeatedly, he nicknamed the boy Pancham.
Swimming and the mouth organ were his passions. He once played the mouth organ while floating on water during a water ballet at Anderson Club near Dhakuria Lake, Calcutta.
Even before the release of Bhoot Bungla (1965), a few neighbourhood kids had heard the tune of 'Jaago sone waalon' from Pancham himself. He had caught them red-handed stealing mangoes from his garden and taken them home where he made them listen to the song.
Pancham acted in three films, Bhoot Bungla, Pyar ka Mausam (1967) and the Bengali film Gayak (in which he played himself). He was supposed to play the role that Sunil Dutt eventually played in Padosan (1968), but backed out after his father asked him to choose between acting and composing.
All his life, despite the brilliance of his compositions ranging from the classical (Amar Prem, Kinara) to the popular (Yaadon Ki Baraat, Jawani Diwani), Pancham never won a National Award, though Parichay, Masoom and Ijaazat fetched their lyricists and singers the same award. Even his first Filmfare Award came in 1982, for Sanam Teri Kasam, nowhere near his best. Of course, now the Filmfare Award for Best Debut Composer is named after R.D. Burman.
RD Burman would spend hours at his house balcony for the perfect recording of the sound of raindrops.
RD Burman would use everyday instruments like soda bottles, flour mills running on the hydraulic force, etc to create music. In fact, reports have it that he would also use his musicians' back to drum so that he can create his own unique sound for his music.
About his personal life, RD Burman married Rita Patel in 1966 and after 5 years, they parted ways. In 1980, he married Asha Bhosle and lived with her until his death.
Burman also recorded a non-filmy, rock-jazz album, Pantera (not the American metal band of the same name). It was recorded in the United States in 1984 and released three years later. However, the album failed to create a buzz in India, much to Pancham Da's frustration. Later, he used one of the songs from the album as the mukhda to Rang Rangeeli Raat from Gardish (1993).
When he was nine years old, RD Burman composed his first song, 'Aye meri topi palat ke aa', which his father later used in the film Fantoosh (1956).