Diljit recently took to his social media and shared some pictures from his winter holidays. The Punjabi singer-actor can be seen posing for pictures in the snow. On which Kangana Ranaut slammed the 'Udta Punjab' star yet again by calling him a 'local krantikari'. The 'Dhaakad' actress retweeted Diljit's post and wrote, 'Wah brother!! Desh mein aag lagake kisanon ko sadak le baitha ke local karantikaris videsh mein thand ka maza le rahe hain, wah!!! Isko kehte hain local kranti…'
Responding to Kangana Ranaut's latest comments against him, singer-actor Diljit Dosanjh has said that he should appoint her as his public relations person, seeing as how obsessed she is with him.

Diljit shot back with a video of an elderly lady hitting out at Kangana. He wrote in a tweet, in Punjabi, that his allegiances were, are, and will always remain with the state of Punjab. 'You live with such misconceptions about yourself, don't think Punjabis have forgotten what you've done. We will have our answer for you soon.'
Also Read: Kangana Ranaut Takes A Dig At Diljit Dosanjh For Enjoying Winters In Foreign Country, Calls Him 'Local Kranti'
Diljit replied in Punjabi, 'I don't understand what her problem with farmers is. Ma'am, all of Punjab is with the farmers. No one is talking about you.' He also shared a Hindustan Times report about Kangana's previous attack against him, and wondered if he should appoint her as his PR representative, as she cannot get him out of her head.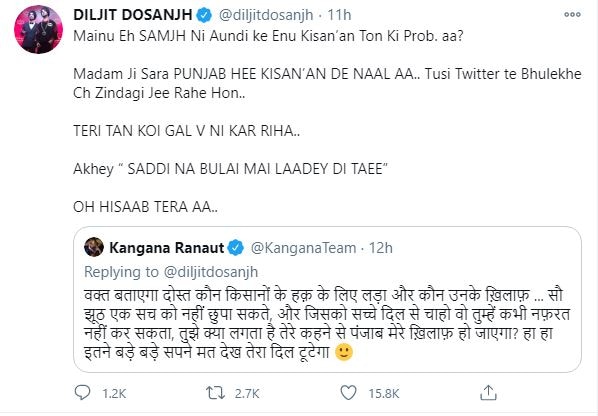 Kangana responded to this with a tweet in Hindi. She wrote, 'Time will tell, friend, who fought for the rights of the farmers and who against them… Hundred lies cannot hide one truth, and you will never be hated if you care for someone with all your heart. You think all of Punjab is against me? Haha don't dream so big your heart will break.'
Bollywood artists Kangana Ranaut and Diljit Dosanjh has been making the headlines lately for their Twitter battle over farmers' protest. It all started when Diljit called out Kangana for misidentifying an elderly Sikh woman, who took part in the protests, as Bilkis Bano of Shaheen Bagh. The 'Good Newwz' actor slammed the 'Manikarnika' actress for sharing posts on the protests without verifying facts. The 'Panga' actress didn't take long to respond to his tweet and called Dosanjh 'Karan Johar's pet'. Their feud grabbed several eyeballs and the two celebs trended for several days.